CONTESTED DIVORCES
LOUISIANA DIVORCE ATTORNEY
TRACY ROTHARMEL SHANKS
NEW ORLEANS DIVORCE ATTORNEY FOR CONTESTED CASES
Attentive Representation for Your Legal Proceedings
Divorces can be complex and filled with anxieties and emotion. Even the most amicable of divorces can quickly take a heated turn for the worse when it comes to resolving complex issues and reaching a desirable end to a proceeding.
Rotharmel Shanks, LLC is proud to provide trusted legal assistance to individuals that are seeking representation during a complicated, contested divorce. With a trusted reputation for offering stellar counsel, family law attorney Tracy Rotharmel Shanks may be able to assist you with obtaining a favorable resolution to your case. Call the firm right away at (504) 509-5000 if you need a New Orleans divorce attorney.
There are numerous things that could cause issues to arise during a divorce proceeding, including:
Contested child custody and child support
Division of assets and property
Complications with benefits, retirement, and businesses
Will My Divorce Be Contested?
It is hard to say if a divorce will be contested or not; however, there could be signs that your spouse could make your separation one of high conflict. If your spouse has been known to be irritable or demanding, you could be facing a contested divorce. Anytime you find that your spouse is creating unnecessary conflicts, attempting to petition courts or extending issues that should be resolved, you need to contact a divorce lawyer in New Orleans right away.
Having the right attorney on your side can significantly benefit your case and help resolve complex issues. If you are considering divorce, or if you have been faced with a combative spouse, it is important that you call the office and schedule a case evaluation.
Work with Rotharmel Shanks, LLC When You Call (504) 509-5000
Tracy is proud to have experience working at one of the largest New Orleans litigation firms. She has successfully guided her past clients to favorable resolutions in their divorce cases. She gladly provides clients with an open line of communication and service that you can trust.
Contact Tracy Rotharmel Shanks at (504) 509-5000 to schedule a consultation if you are considering divorce, or if you have already begun your divorce proceedings.
Message Us
Get in touch below or call us to discuss your case.
Office Location
3445 N. Causeway Blvd
Suite 603
Metairie, LA 70002
Open Hours
Hours: Open 24/7 by Phone
(Meetings by Appointment Only)
Email
tracy@rotharmelshanks.com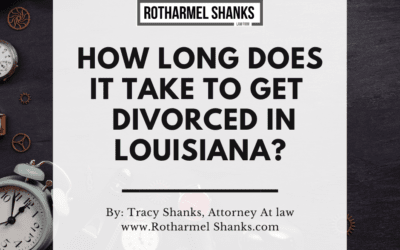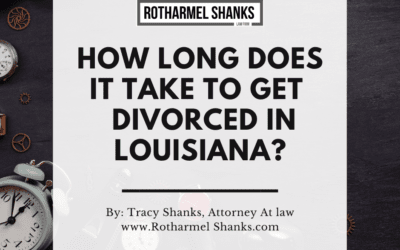 Are you considering divorce and want to know how long it takes to receive a divorce judgment? This article discusses the different components of divorce and explains how each component affects the time it takes to get a divorce in Louisiana. There are two important...
read more